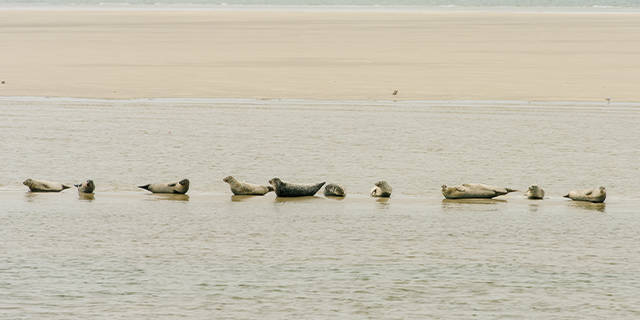 Wadden Sea World Heritage
The Wadden Sea is the largest tidal system in the world in which natural processes can take place undisturbed. The area stretches along the coasts of Denmark, Germany and the Netherlands.
Because of its unique geological and ecological values, the Wadden Sea is on the UNESCO World Heritage List. Nowhere else is there such a dynamic landscape with a variety of habitats shaped by the wind and tides. Wind, water and tides ensure that the Wadden Sea changes day by day. Sandy areas grow and crumble again. Channels change course and seawater washes over the salt marshes. Biodiversity on a global scale depends on the Wadden Sea. A unique piece of world heritage and even the only natural world heritage in the Netherlands!
The Wadden Sea Expedition goes from Nes (Ameland) towards Terschelling. On this sailing trip on the Wadden Sea you will see seals and get to know the special sea creatures. In addition to this trip, you can also go for a little walk with our guide. Ask us about the possibilities.